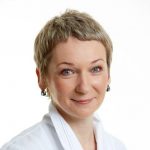 Is medical director and a leading expert in vitro fertilisation of IVF Riga. She has more than 15 years of work experience in reproductology. Graduated from Medical Academy of Latvia. After Finishing the Academy she worked in St. Petersburgs hospital for two years. After that she gained some experience in Latvian hospitals. In 2004 started to work as a medical director in one of the Riga's reproductology clinics, and additionaly got a master's degree in program "Buisness Management and Administration" at the Baltic International Academy. She Actively participate in scientific activities, conferences, publications and continue to develop her knowledhe and abilities in her medical field.
Scientific publications including theses:
Vedmedovska N., Seimuskina N., Fodina V. Rescue arabin pessary in a case of twin pregnancy, 15th World Congress in Fetal Medicine, Mallorca, Spain. 26-30 june 2016. Abstract.
Voložonoka L., Fodina V., Kornejeva L., Molecular karyotyping of products of conception evaluation of perfomance and capacity, 32nd Annual meeting of ESHRE,2016.3.-6 July, Helsinki. Poster.
Fodina V., Understanding IVF failures in patients with complicated reproductive history, "3rd Annual Baltic Fertility Society Meeting",2016.20.-21 May ,Riga,Oral presentation.
Vedmedovska N., Fodina V., Polukarova S. VACTERL association after infertility treatment – case report, International Journal of Diagnostic Imaging, 2016. Vol.3 No. 2.
Volonožoka L., Kornejeva L., Miskova A., Fodina V., Molecular karyotyping opportunities and assesung the effectivness of missed abortion analysis of the material, RSU Scientific Conference, 17.-18.March, 2016,. Paper.
N.Vedmedovska, N.Seimuškina, V.Fodina. Arabin pessary introduction in Latvia: first results, RSU Scientific konference, 17.-18.March, 2016 gads. Paper.
Fodina V., Newest tendencies in IVF", 2016. 04 March, Oral presentation
Fodina V., Endometriosis and infertility treatment tactics, 2016. 23 February, Oral presentation.
Fodina V., Fertility preservation for oncologypatients, oral presentation. TIP2016/98, 2016.18th of February
V.Fodina, D.Andzane, E.Pimane, A.Miskova. How to decrease EPL rate treating infertility? Gynecological endocrinology The official journal of the international society of gynecological endocrinology. October, 2015. Original article.